To truly make the most of your deck, it's imperative to have the right accessories!
Home deck is becoming increasingly popular as homeowners look for ways to extend their living space and enjoy the beauty of their outdoor premise. But do you know that having the right deck accessories offers more than just enhancing the aesthetic appeal of your deck? Here are some noteworthy items you should check out!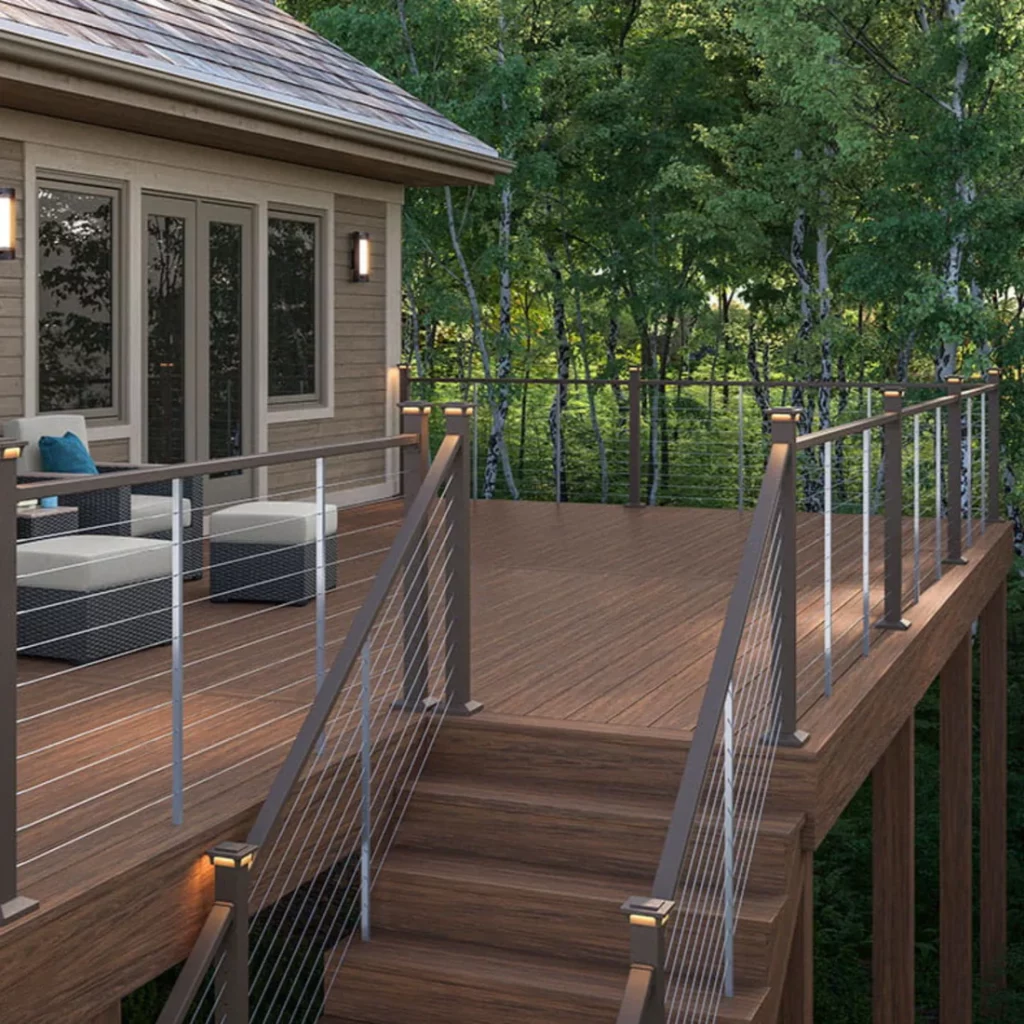 Lighting is an essential element of outdoor living. It not only enhances the aesthetic appeal of your deck but also provides safety and security by illuminating the area. Outdoor lighting can be used to highlight the unique features of your deck. It can also be used to create a sense of ambiance and warmth, making your deck a comfortable and inviting place to relax and entertain.
There are several different types of outdoor lighting to choose from, including solar, low voltage, and hardwired.
Solar Lighting
A type of outdoor lighting that utilizes the energy from the sun to power the lights. It is a popular choice for outdoor lighting because it is easy to install and requires no wiring.
Solar lights are powered by a small solar panel that converts sunlight into electricity, which is then stored in a rechargeable battery. This stored energy is then used to power the lights at night. They are also available in different colors and finishes, allowing you to match them with the style of your home and landscape. It is environmentally friendly and cost-effective. It does not require any electricity from the grid, so it does not add to your energy bills. 
Also, it does not produce any emissions, so it does not contribute to air pollution. Once they are installed, the only thing you have to do is to make sure that the solar panels are kept clean and free from debris, so they can absorb as much sunlight as possible.
Low Voltage Lighting
An outdoor lighting that operates on a lower voltage than traditional lighting. The voltage is typically 12 volts or less, as compared to the standard 120 volts used in most homes. This lower voltage makes it safer to work with and install, and also makes it more energy efficient.
Low voltage lighting systems typically include a transformer that converts standard household voltage to the lower voltage needed to power the lights. The transformer is usually located near the main electrical panel, and the low voltage cables are run from the transformer to the lights.
The low voltage used by the lights means that less energy is required to power them, which can save you money on your energy bills. Additionally, low voltage lights are usually more durable and have a longer lifespan compared to traditional lights.
Hardwired Lighting
Hardwired lighting is more permanent and requires professional installation, but it is also the most versatile and can be controlled with a switch or a dimmer. They can also come with various features such as timers and motion sensors. Another advantage is that hardwired lighting systems are more reliable and do not depend on battery or sunlight. However, the installation of these systems requires the help of a professional electrician and may need a permit.
When choosing outdoor lighting for your deck, select lighting fixtures that complement the architectural style of your home and complement the natural surroundings. You'll also want to think about the function of your deck and select lighting that will best serve that purpose. For example, if you plan to entertain on your deck, you'll want to choose lighting that will create a warm and inviting atmosphere.
Comfortable seating is a must-have for any deck. There are many options available, including traditional deck chairs, rocking chairs, and even outdoor sofas and sectionals. If you're looking for a more permanent seating solution, consider built-in benches or even a deck fire pit with seating.
When choosing seating for your deck, it's important to consider the materials and styles that will best suit your needs. Look for something that is comfortable, durable and easy to maintain. Take note of the materials that are resistant to weather and fading and are easy to clean. Additionally, you can choose from a variety of styles such as modern, contemporary, or traditional, to fit your personal aesthetic.
Whether you're looking to protect yourself from the sun or add a bit of privacy, a
shade solution
is a must-have for any deck. There are many options available, including umbrellas, pergolas, retractable awnings, and more which can also add a touch of elegance to your deck. The shade solution you choose will depend on your personal preference, budget, and the amount of space you have available on your deck. Be sure to consider factors such as ease of use, durability, and aesthetics when making your decision. It is also a good decision to
consult experts
to avoid future potential problems.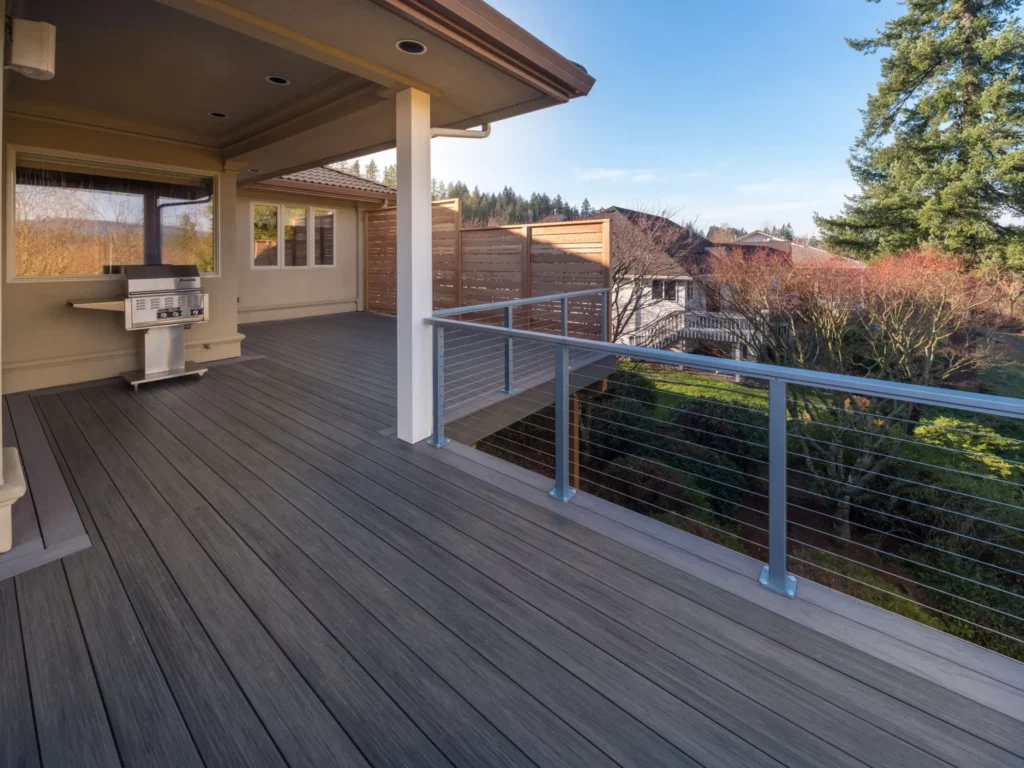 Deck railings
are an important safety feature for any deck, whether it's a small balcony or a large multi-level deck. They provide both a physical barrier to prevent falls and a visual barrier to enhance the aesthetic appeal of your deck. There are many different types of deck railings available, each with their own unique benefits and drawbacks, yet again, when choosing a railing for your deck, it is important to consider your budget, the style of your home, and the intended use of your deck. Here are some railing options that are commonly used:
Traditional wood railing

Aluminum railing

Glass railing

Cable railing
Finally, let's talk about accessories that add a touch of fun and entertainment to your deck. A deck can also be enhanced with the addition of an outdoor sound system, which allows you to enjoy music and other audio while you're on your deck, an outdoor TV which is perfect for watching sports or movies while enjoying the fresh air, or board games for everybody to join. Additionally, you can add a fire pit or outdoor fireplace to your deck for a cozy and inviting atmosphere.
By incorporating these and other deck accessories that suit your architecture, you can surely maximize your deck into its full potential!