Composite decks are generally chosen as the boards of choice because of their low maintenance, resistance to the elements, and lower upkeep. They are a very popular choice for the Pacific Northwest especially, where mold and mildew are a major concern with typical wood decking options. Although, there are a few complaints about composite decking. In particular, there are concerns about how hot a composite deck will get in the summer.
Is composite decking hot to the touch?
This answer is a little more complex than a yes or no. Like other wood and decking materials, composite decks do get hot in the summer when exposed to direct sunlight- but so does everything else the sun is shining on. Its summer! Overall, we have found composite decks are slightly warmer than wood decks but cool down faster. There are a few things that go into the temperature of your deck, though. Material, color, and location will determine how warm or cool it stays.
Material
The material of your deck is a huge component of how well it will retain heat. Because they are more dense, wood plastic composite decks (WPC) retain more heat than plastic composite decks. Therefore, the plastic composite will cool down faster and may feel better on your feet.
Here at Cascade, we use Deckorators composite boards for decks. They are made from a mineral based composite (MBC), which is a cooler option than the wood plastic composite boards. MBC or PVC composite boards will be the best options for you if you are concerned about the temperature of your deck.
Wood decks were found to retain heat longer than composite decking. The wood boards are more prone to drawing in heat to the center of the board. While this makes it feel cooler on your feet initially, it takes the wood board longer to cool down.
Related: Trex vs. Deckorators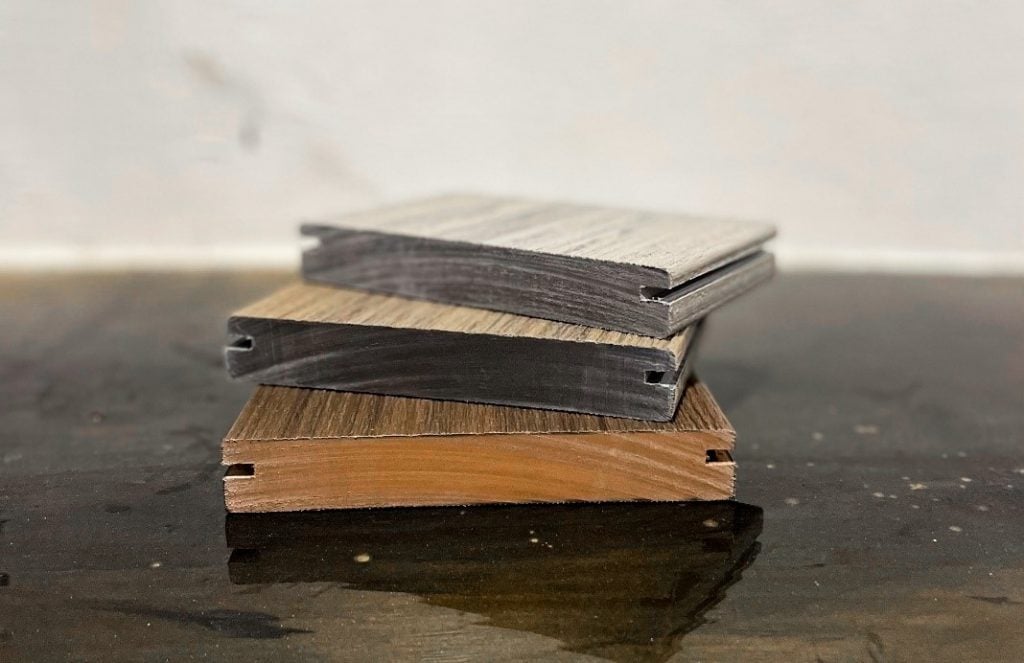 Color
Capitol City Lumber did a test on various brands of composite and wood boards and tested them during the summer to see how hot they would each get. They found that darker color composite boards were the highest in temperature. The lighter color composite boards averaged around the same temperature as the wood boards. So, the difference in temperature for wood and composite boards is minimal, unless you are comparing a light wood and dark composite.  
Of course, this makes sense- lighter colors reflect heat, and darker colors absorb it. Darker composite boards will be hotter than lighter colors in the same outdoor conditions.
There are many options for composite board colors, and the choices continue to grow as time goes on. Deckorators offers several options for colors, although the options will change based on the manufacturer your contractor uses.
Related: 3 things we like about Deckorators Decking

Location of deck
Where your deck is located will be a determining factor for how hot it can get. Eastern facing decks will get sun in the morning, and western will be warmer in the evening. Northern facing decks will get the least amount of sun, while southern will get a consistent amount throughout the day.
Amount of shade
If you want your deck to be cooler, regardless of what material it is, adding shade will be the best way to beat the heat. You could add a patio cover, plant trees around the deck, or put down a rug to beat the heat. Regardless of the color or material, the deck will get warmer in more sun.
If you are worried about yourself or your family walking on a hot deck, we would recommend shade or a deck cover first. This is the only true way to guarantee the boards will not be as hot. If it is in direct sun, and you still have concerns, we would recommend a light-colored MBC deck or a light-colored wood deck. They will be comparable in temperature. Deckorators offers MBC boards for their decks, with several color options.
Related: Pros and cons of composite decking
Learn more here: