How to design your deck is an important step that cannot be overlooked. The design will determine the functionality, style, feel, and use of your outdoor space. It is so important because you want your second living room, kitchen, eating area, and play area to be as optimal as possible. You want to feel good stepping into the backyard.
So how do you get started designing your space? We have outlined three important questions to ask yourself when designing a deck, as well as tips for making this design process smooth.
Tip 1: What will your space be used for?
When you design the space inside your house, you will be designing a kitchen area, dining area, lounging area, etc. A similar concept comes when you design your deck. What are you using the space for, and what are your desires? You will be designing similar spaces for your backyard.
Determining the goal of the space before designing it will help you to optimize its function and flow, and maximize the space that you will have.
Related: How much does a deck cost?
Tip 2: What type of events will you be hosting?
Look at the functionality of your space. Will you be hosting events, and how large will they be? How should the space be laid out so that you can fit the functions of your deck in your designated area?
Let's say you want to build a deck that has an area for dining, lounging, and an area for kids to play. One way to organize the space is to lay it out in front of you. Take a piece of paper, and draw or cut out the paper to scale the size of your deck. Then you can draw or cut out all three of those areas that you want on your deck, and move them around in a way that makes the most sense. Your dining area will likely be closer to the inside kitchen, the eating area close to the outdoor cooking space, etc. You can figure out what layout would work best for you and your yard.
Related: Common problems with wood decks
Tip 3: What style and amenities do you want?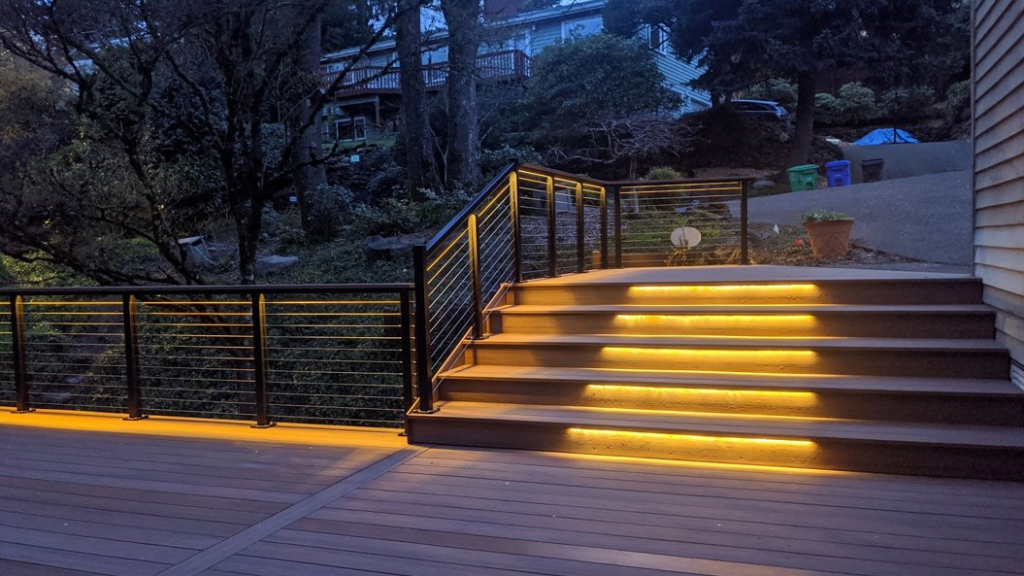 When you construct your deck, it should not be seen as a separate project from your house. Rather, it should be seen as an extension of your home, and match accordingly. How will you match your house with the features of the deck, like the style, material, railing, lighting, etc? For example, a minimalistic, modern deck may look best on a modern home rather than on a traditional or colonial home. White vinyl railing is typically a better choice for a colonial or traditional home, rather than a modern one. This is the best way to make your deck look like it was always a part of the house, rather than a random add-on.
Design is complex, but we hope these three tips will help you get started. If you have any further questions on design, feel free to contact one of our estimators- they have a passion for this and anything decking related.