Have you considered replacing or installing a new composite deck but wonder what the advantages and disadvantages maybe? In this article, we will explore the pros and cons of composite decking products.
PROS OF COMPOSITE DECKING
1. Composite deck boards are mold and mildew-resistant and far less susceptible and even immune to rotting with some product lines.
DECKORATORS
Deckorators decking has been tested under accelerated weather conditions and is weather-resistant. In addition, Deckorators employs a time-tested technology, which provides superior protection against UV degradation and water absorption.
Mold & Mildew Resistance: ⭐️⭐️⭐️⭐️⭐️
TIMBERTECH
With TimberTech, you get the whole aesthetic experience of wood without the laborious, costly, and constant upkeep required of lumber. Our one-of-a-kind capped polymer material and protective cap technology offer unbeatable protection from the elements to safeguard your deck boards from mold, mildew, and moisture damage. Enjoy lasting, beautiful decking, all backed by industry-leading warranties.
Mold & Mildew Resistance: ⭐️⭐️⭐️⭐️
TREX
Newer-generation Trex deck boards (Trex Transcend®, Trex Enhance®, Trex Select®, Trex Contour®) are manufactured with a high-performance shell that wraps around three sides of the composite board to protect it from the elements, providing resistance to fading, staining, scratching, and mold.
Mold & Mildew Resistance: ⭐️⭐️⭐️
2. Composite decking is low maintenance. The only maintenance required is periodically cleaning as needed.
To learn how to clean your composite decking, please view this video.
3. Composite decking comes in a large variety of colors to fit nearly any design need.
4. Some composite decking is eco-friendly.
While nearly all composite decking is eco-friendly because it is a sustainable material, if recycled materials are essential to you, Trex is the leader in this category.
Trex® eco-friendly composite decks from an innovative blend of 95% reclaimed wood and plastic film—that's almost the whole thing. On top of that, our company uses some of the most earth-friendly manufacturing processes in the country, reclaiming factory waste and eliminating the use of harmful chemicals. Trex offers consumers a truly environmentally responsible choice. Being green is in our DNA. We've been this way nearly 30 years, well before green was a buzzword. Because in the end, all of us want to look out on our decks and know that we've done our part. – Source : www.trex.com
5. Composite decking offers long-term warranties.
DECKORATORS

Deckorators® products are backed by our industry-leading warranties. Our composite decking is backed by our 25-year Structural, 25-year Stain & Fade and 25-year Limited Removal & Replacement, while our mineral-based composite decking is upheld with our new 50-year Structural warranty. Our Aluminum Railing and Balusters have a lifetime limited warranty on manufacturing defects and powder coating and a 25-year Limited Removal & Replacement warranty.

Source: www.deckorators.com
TREX
The power of the outdoors has met its match. Trex is engineered to endure decades of foul weather and foot traffic …with the warranty coverage to prove it. With virtually every product covered by our 25-Year Limited Residential Warranty, you can rest assured that your backyard investment is well protected. And even better: our high-performance decking products come with an extra layer of coverage: an additional 25-Year Limited Residential Fade & Stain Warranty.

Source: www.trex.com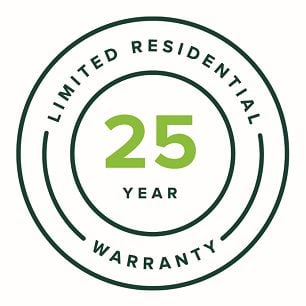 TIMBERTECH
TimberTech offers warranties as long as 50-years on some of their products. For full details, visit: www.TimberTech.com
CONS OF COMPOSITE DECKING
On the other hand, you should be aware of some potential downsides to composite deck boards.
1. The cost of composite deck boards can be higher initially.
When compared to cedar deck boards, the initial cost of composite deck boards. You can likely expect to pay 10 to 15 percent more for composite deck boards upfront. However, this can be canceled out by time savings on installation and the longevity of the product. Additionally, you will not have to cover the cost of re-staining every 2-3 years.
2. Surface damage can be an issue in some cases.
Although composite decking is highly durable, it can be harder to remove scratches when surface damage occurs. Natural wood decks, on the other hand, can be sanded down and refinished.
3. Composite deck surfaces can be more slippery.
Deckings composite counterpart is naturally more slippery than natural wood. However, some manufacturers have taken notice and addressed this very issue.
Deckorators Voyage Decking provides 34% or greater surface traction than other leading brands of composite decking. An independent third-party lab has tested this capped deck board between 9/24/18-9/25/18 in wet conditions under the Australian – New Zealand AS/NZS 4586-2013 standard.

Source: www.deckorators.com
4. The surface of composite decking may be warmer than wood planks.
According to Deckorators website: On a hot, sunny day composite decking, regardless of brand, may retain heat and feel hot to the touch. This is similar to most other outdoor surfaces, such as concrete, wood decking, or beach sand. On such days individuals are encouraged to cool surfaces with water or wear appropriate footwear.
5. If you prefer the look of real wood, composite isn't for you.
Last of all, no matter how much progress is made in the manufactured products, they will never look exactly like a natural wood product. So if that's what you're looking for, composite isn't for you.