Cedar looks beautiful and natural, and vinyl is low-maintenance. Find out which fence type is best for you.
Don't like to read? Check out the short video below:
It's time to replace your fence, and you have some decisions to make. You've seen some nice fences in wood and vinyl, and you've heard some pros and cons for each.
What you really need is a clear comparison. What are the cost differences between these types of fences?
Let's say you lived in a nice suburban home with a normal backyard. You have roughly 200 linear feet of fence and two walk-through gates. It's a great backyard, perfect for hosting small parties and big enough for a dog (if you want).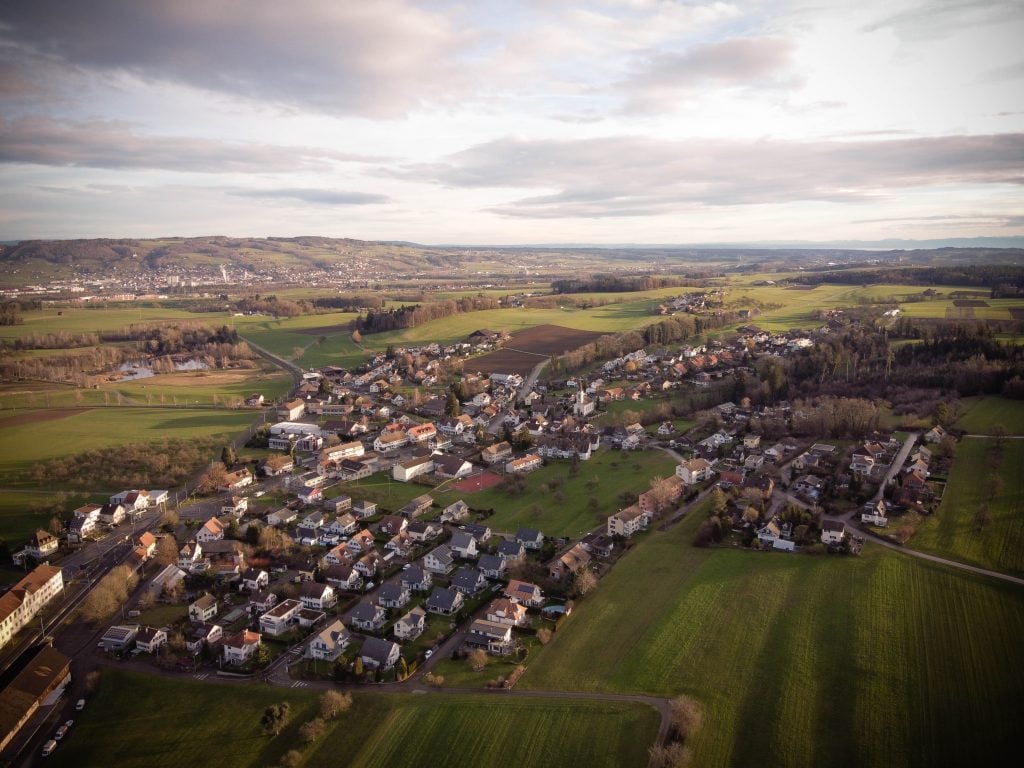 In this example, you call up Cascade Fence & Deck and ask about replacing your fence. Just like in the real world, we'll meet with you to review the details, measure up the fence and get you pricing for your options.
Since you're not sure which option you want, we'll give you a price for cedar and vinyl. Which fence type will be a better choice? Let's find out.
Thanks to changes in labor and material costs, the price for your project may be different from the prices in this example. Want to get a budget range for your project? Start your free no-obligation estimate
Cost to install
Our most popular wood fence style is the Chelan cedar privacy fence; you've seen it in neighborhoods and backyards all over.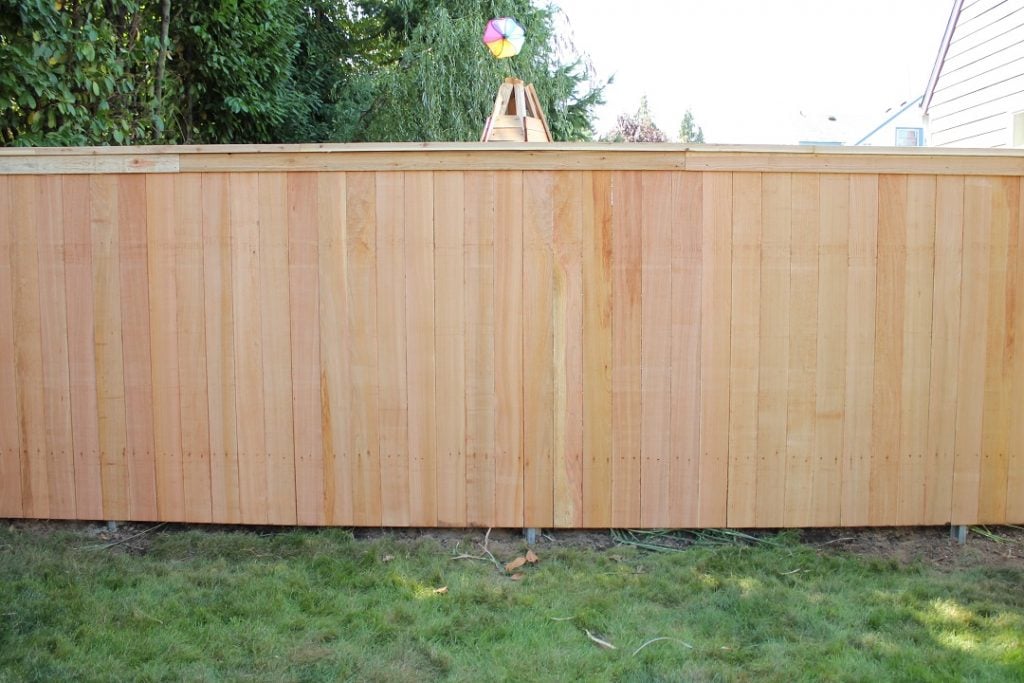 For this comparison the Chelan fence was priced with steel Postmaster fence posts, #2 cedar boards, and that signature top cap trim. The total price came out to $11,693.
Thinking about installing wood fence posts to save a few bucks? Here's why you should choose steel posts instead.
Next we price out a comparable fence style in vinyl. Our Clark style vinyl fence looks exactly like most vinyl fences you've seen.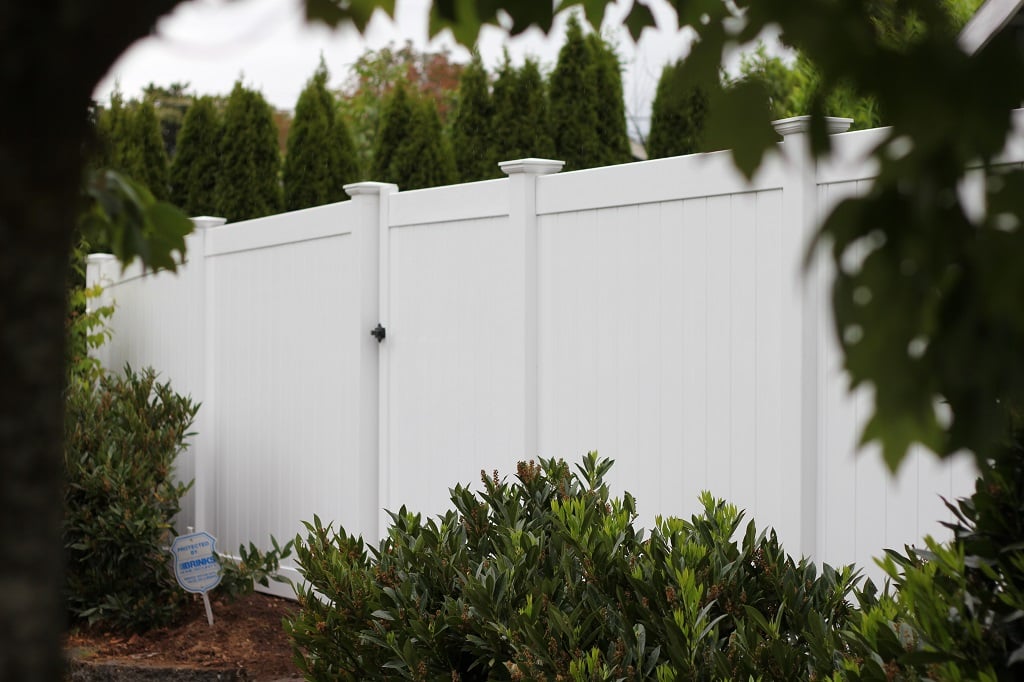 For this comparison the total price for the Clark vinyl fence option was $12,119.
The cost is within 4% between the two materials for installation, with the vinyl fence being roughly $400 more to install.
So is vinyl more expensive? It's not that simple. Let's look at a few cost factors that get missed.
Cost of maintenance
Many people forget to consider these costs, but they do add up.
A cedar fence will need to be stained and/or sealed to prevent decay. Some stains include a sealant, while others are sold separately. These products can add a cool look to your fence, but they do require regular re-application to effectively preserve the cedar.
To pay a professional for staining services can cost $1000 or more for a fence of this length. Most sealants will last 1-3 years and then require a re-seal.

In our scenario, once you add the cost of stain that "cheaper" cedar fence will cost $1,004 more than the vinyl fence in the same year!
You can save money by choosing to stain the fence yourself. On the other hand, you'll have to do it yourself, so… is that really better?
Long-term costs
For those who are only in a home for a short time, you're probably only thinking about what it costs to replace your fence today.
If you're planning to be in your home for the long-term, these costs become very important.
Cedar fence lifespans (even with steel posts) are usually in the 10-to-15 year range when properly maintained. If you don't seal the fence regularly, this timeline can be even shorter.
Wood products are organic, and are affected by exposure to moisture and oxygen. Over time, wood products will warp, twist, split and decay. Unlike man-made products, the natural characteristics of wood are not covered under warranties.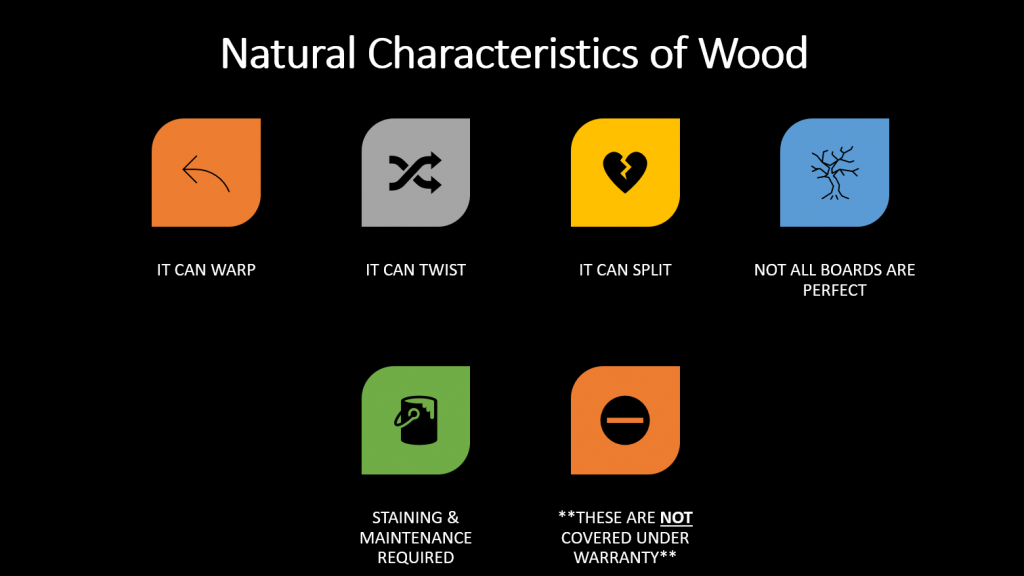 Vinyl fences don't break down under ordinary weather conditions. Short of fence damage from auto accidents or falling trees, a vinyl fence is likely to last for decades with no maintenance other than a quick wash with an ordinary garden hose.
Best of all, high quality vinyl manufacturers like National Vinyl Products provide a Limited Lifetime Warranty on their materials.
Cedar vs Vinyl: The final result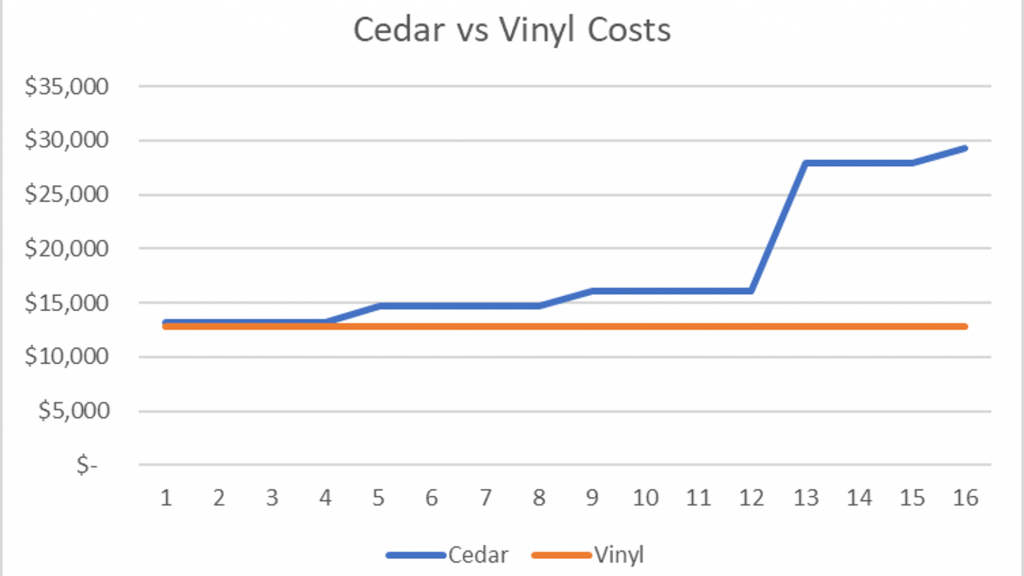 When you take into consideration the cost of replacement, vinyl is the clear winner in this situation. This homeowner could save as much as $30,000 over a 15-year period by going with vinyl instead of cedar. That's a lot of savings!
---
We've compared the cost of installation, maintenance and replacement for wood and vinyl fences. If this was your fence, hopefully at this point you'd have a clear idea of which option would be best for you.
Ultimately, cost is only one factor in this decision. Whatever the costs, it's important to choose a fence type that fits your style preferences, needs and lifestyle. Cedar fences are beautiful, but they come with hidden costs that you should know about before you get started.
Which fence type would you choose?