You're thinking about making some changes to your backyard, and it's time to start planning the project. You know that you'll have to pay, but how much does a deck cost?
In this post we'll review six deck projects that we've completed and discuss the budget range for each project. We'll use real deck budgets for 2021 so you can get a good idea where your project might fit.
We will also go over the factors that affect the pricing of your deck.
This article will go over:
Factors that go into the price of a deck
Prices of small to large decks
Watch the video version of this post below.
Project Examples 
Small deck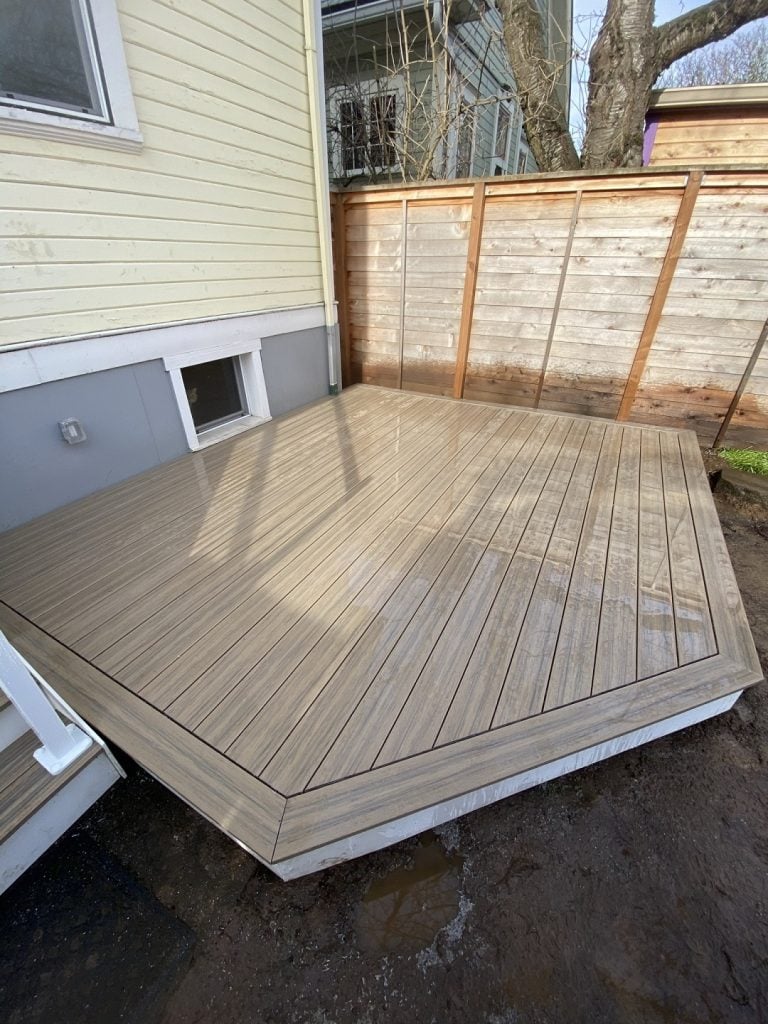 This deck is built with Deckorators composite decking. The short distance to the ground means this deck doesn't require railing, which saves the homeowner quite a bit of money.
This project has a very simple shape, which makes the construction process go quickly. There is a small angle on one corner, but overall the installation crew won't need to do much custom framing, cutting or assembly.
Being within 6 to 8 inches of the ground is considered a ground level deck. This deck doesn't require the same level of footings and framing needed for a raised deck, which reduces the cost of materials and labor.
Small, ground-level decks like this one between 100-200 square feet normally have budgets between $5,000 – $10,000.
Mid-size ground-level deck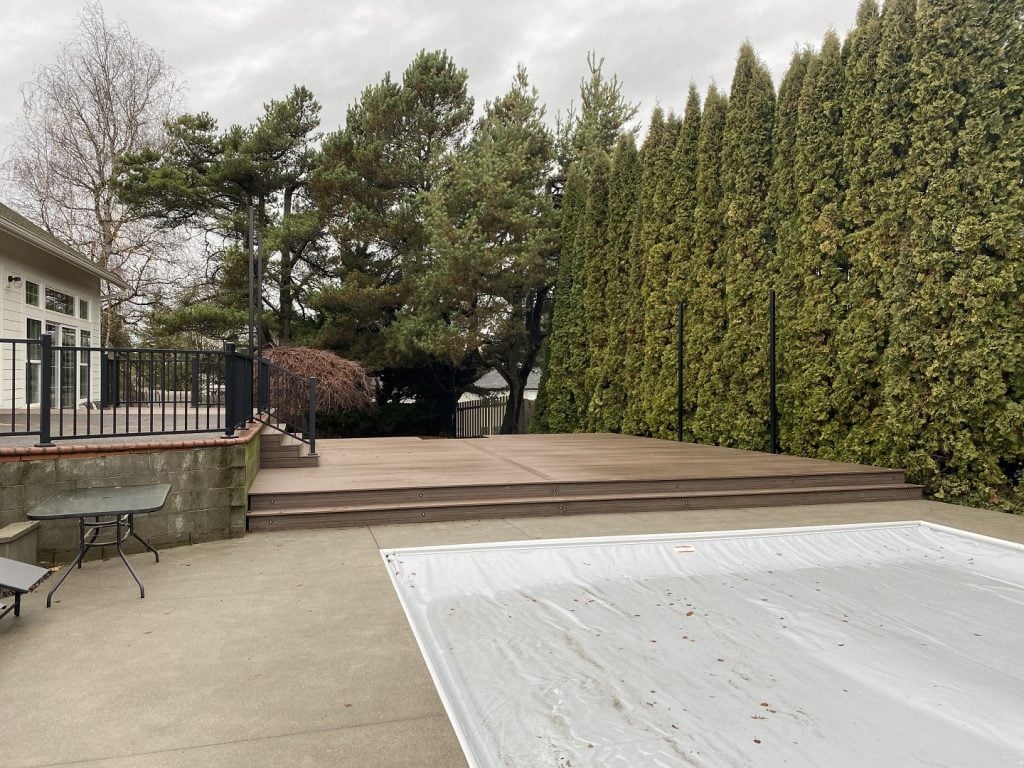 We built this project as a midway space between a raised concrete patio and a pool area. It's perfect spot for a dining set or patio furniture. The simple rectangular shape, no railing, and some stair lights are the main contributors to the total cost for this deck.
For projects of similar size between 400-600 square feet, budgets between $18,000 – $25,000.
Mid-size elevated deck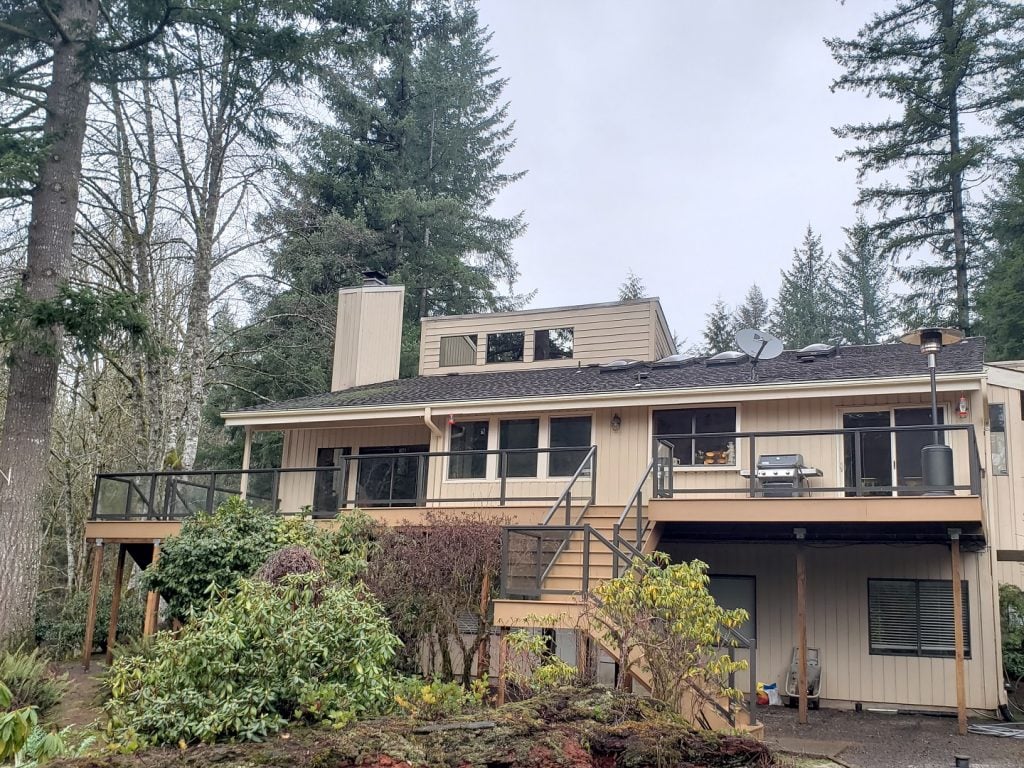 Many of our projects are similar to this one, with an elevated deck surface, railing and stairs. In this case the homeowner chose glass railing, which provides more visibility than other options. With the large open space, this deck can function well for a combination of uses.
For similar projects 400 – 600 feet, a deck project budget is likely going to be between $30,000 – $40,000.
Large elevated deck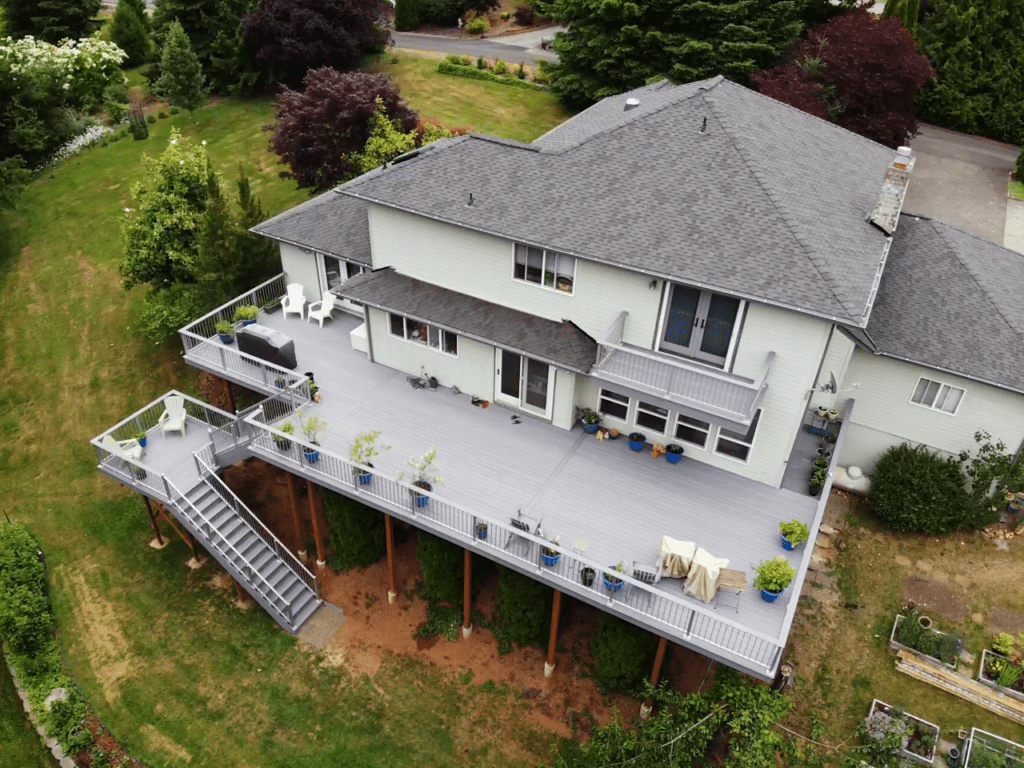 When you build a home on a slope to take advantage of the views, you willingly sacrifice access to the backyard. That's where a project like this comes into play – it offers additional living space on the main level and simplifies access to the ground as well.
Raising this deck up off the ground by 20 feet or more often necessitates engineering to ensure the structure's soundness. While this picture doesn't show them, this deck also necessitates some substantial underground footings to provide structural support. Additionally, your city or county will grant a permit for it, further extending your timeline and increasing your costs.
On a large project like this, exceeding 1,000 square feet, budgets can exceed $80,000 and can rapidly rise with added features.
Large two-level deck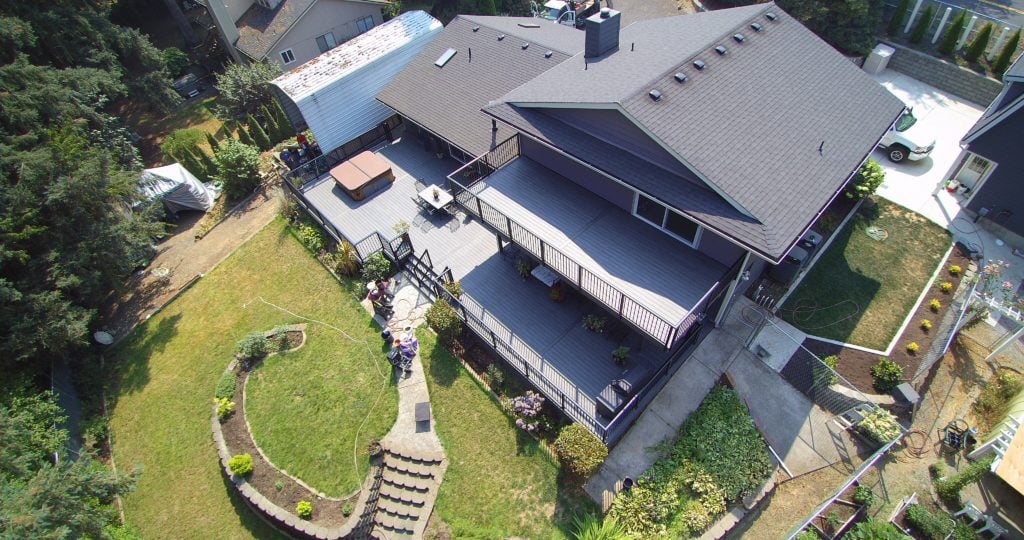 A popular option for many of our projects, this deck involves composite decking and aluminum picket railing. A recessed hot tub built into the deck allows for easy access, and a covered seating area beneath the upper deck is protected by a waterproofing system. This deck has ample space for entertaining, grilling, outdoor dining and personal relaxation.
As with the last one, this 1,000+ square foot deck cost is over $80,000.
Large multi-use deck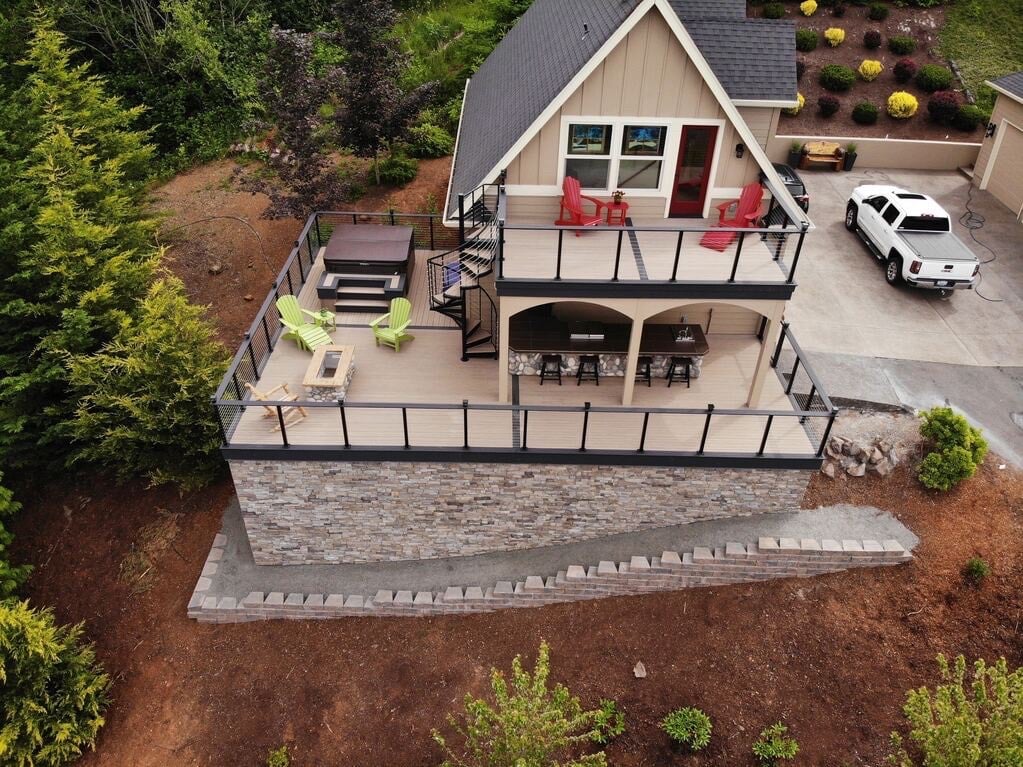 A hot tub with a built-in access, a gas firepit, an outdoor kitchen with bar seating, and a spiral staircase are just a few of the features included in this deck. There's even a TV built into the kitchen counter! Beneath the main deck, a hidden storage area works great for larger seasonal items.
Large, ambitious projects like this have budgets to match. While our large projects can start at $80,000, it's not unusual to get well into the six figure range as you add cool features like these.
Factors of a decks pricing
Size
The size of you deck will, of course, factor into your overall cost. The larger the deck, the more material and labor it will use. It is easier to determine the size of your deck once you decide what the primary functions will be.
Elevation
Raised decks are going to require a strong foundation to support the weight. Therefore, additional beams, fasteners and supports are needed. It will increase construction time and more labor is required. A platform deck will be the lowest cost option, followed by a raised and two story deck. A multi level deck will be highest in price. Finally, decks that are not attached to the home may not require a permit; this varies county to county.
Material
You can choose between several different materials for your deck. The two most common choices are wood and composite, but you can also go with a nontraditional material, like concrete or tile. Some wood options may come at an initial lower cost than composite, although maintenance costs may raise the overall price.
Permitting
The permitting process may be required for your project, depending on what county you live in. Typically the price of your permit will be determined by the size of your project and if it is attached to your house or not. The permit process can be long and tedious, so you typically can ask your contractor to complete the process for you.
https://cascadefenceanddeck.com/post/permit-information/
Additions
Additions to your deck will increase the price as well. Some additions, like lights, are going to incur only the products and labor costs. Larger items, like a hot tub, may raise the overall price of the deck. Heavier items will need more support, so the foundation of the deck will be adjusted to accommodate it. Some add ons include:
Lights
Waterproofing under the deck
Luxury items, like a hot tub
Designs, like fascia
Skirting
Electrical work
---
That's the end of the tour! I hope these six projects gave you a good idea of what your deck might cost. If you're ready to get a budget range for your project, send us the details.