While open decks are a classic, patio covers let homeowners enjoy their outdoor space without also experiencing the elements. They add a cozy outdoor space in your yard that is low maintenance. You can sip your coffee on a chilly winter morning, or relax in the shade on a hot summer day. Of course, the important question is, what is the cost of a patio cover? We will dive into the factors that affect the price of a patio cover and look at some examples of projects and their prices. This article will go over:
Factors
Price of a wood patio cover
Price of an acrylite patio cover
Price of a pergola
Cedar Gable Patio Covers
Safe from the elements, a wood patio cover will keep you nice and dry in the Pacific Northwest's long winters and cool and shaded in the hot summers. A Cedar Gable patio cover will have an A shape. With all projects, the price of your wood patio cover will vary depending on the specifics of your project. Typically, you will pay $80-$102 per foot.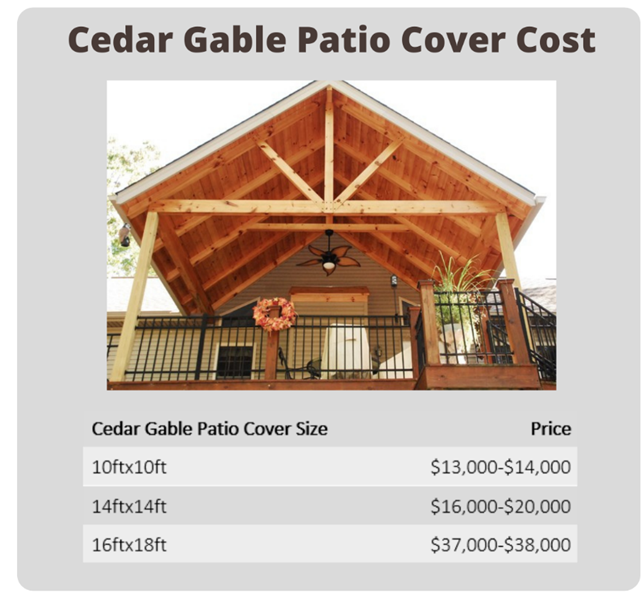 Cedar Shed Patio Cover
As compared to the Gable shape, the Cedar Shed shape is a flat slanting roof.
Wood frame patio covers are the perfect escape from the elements, though not as ideal if you're looking to enjoy some sunshine on your deck. You will typically pay $81-$114 per foot for a cedar shed patio cover.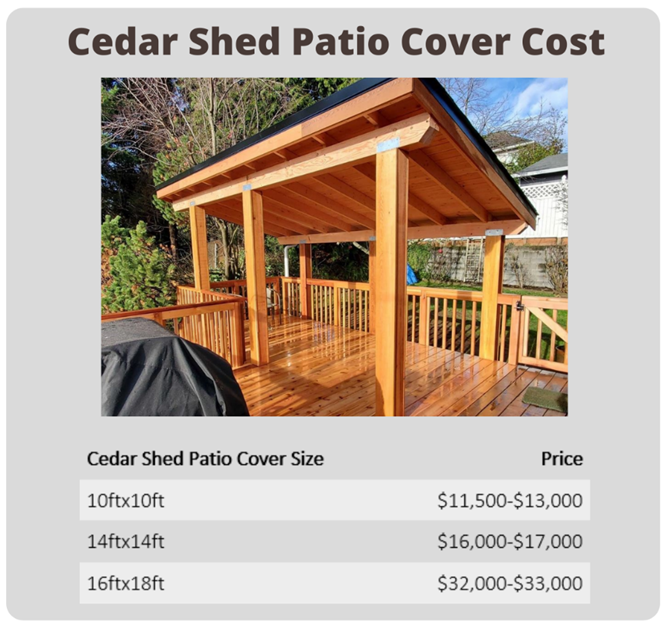 Acrylite Patio Covers
If you would like the coverage of a patio cover, but would also like to enjoy the benefits of sunlight, an acrylite patio cover offers the benefit of both. While here in the Pacific Northwest the use of an open deck is limited to days without rain, with a patio cover decks can be enjoyed all year long.
Acrylite covers are the middle of the road for pricing. The typical price of a patio cover will be about $63-$81 per foot.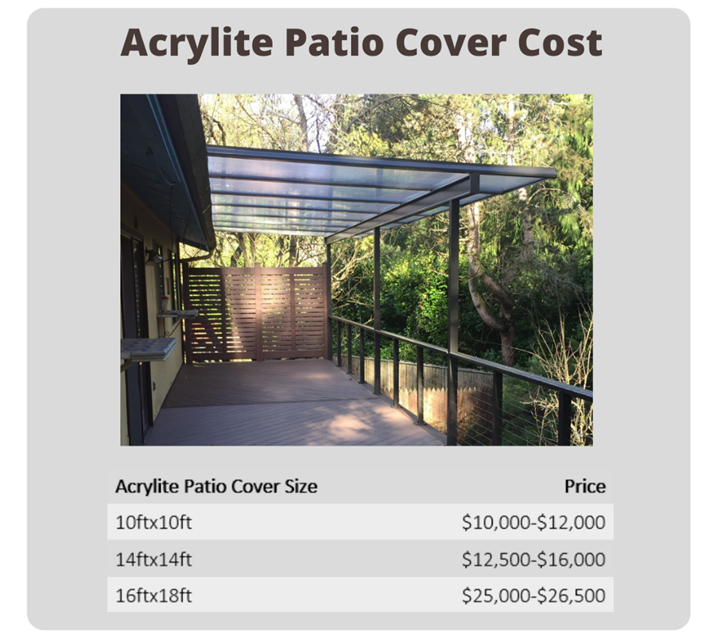 Pergolas
If you're looking for the next step to extend your home into your backyard, a pergola is the way to go. They offer a more exciting pop to your backyard landscape that provides shade and a comfortable place to hang out. Pergolas are going to be on the lower end of the price scale. They will typically cost around $40-$55 per foot.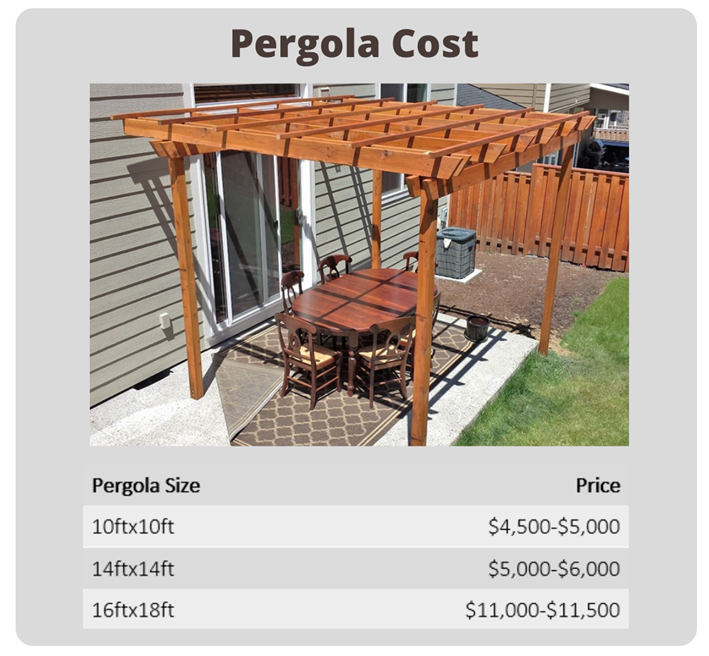 According to HomeAdvisor, most Portland homeowners spend between $6,583 and $22,840 on a patio cover project, with an average cost of $13,972.  Our own data shows that our customers spent between $5,390 and $23,755, with the average spending $14,224 on their patio cover in 2020.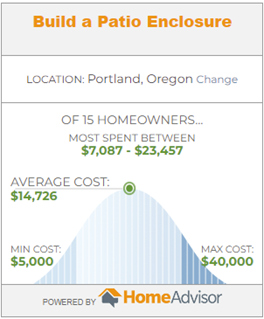 Pricing Factors
There are several factors that may change the price of your patio cover or pergola. These may be necessary factors, like permits, or not so necessary factors, like style preferences. The items listed below will not only vary the price of your patio cover, but the function and aesthetic as well. Each patio cover is customized to your home, so prices will be different for every project.
Style
There are a few different styles to choose from when looking at a patio cover. There are two more common styles of covers: the Gable style and the Shed style. The Gable style has an 'A' shape while the Shed style is a flat roof. Although, if neither of these styles are to your taste, custom shapes are available as well.  Custom shapes may cost more, especially if they require further design and labor. For example, an 'L' shape patio cover will cost more than a typical rectangular cover.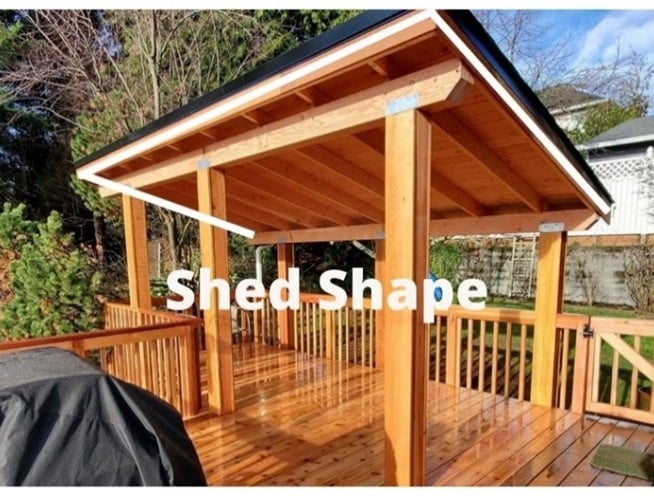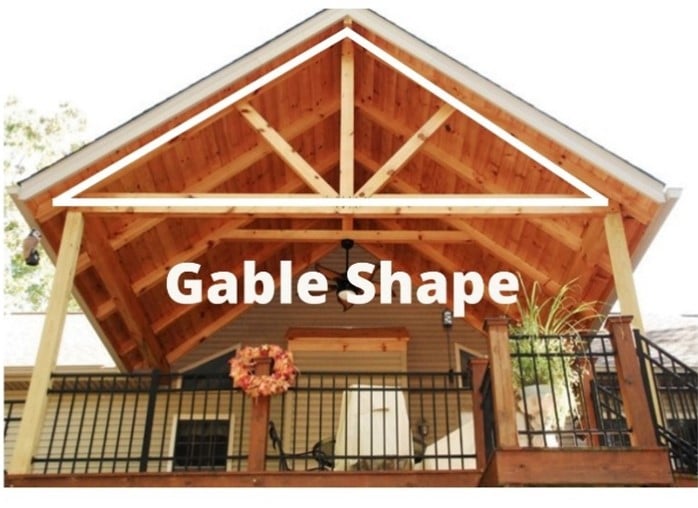 Size
The larger the patio cover, the higher in price it will be. It will require more materials to build and needs more labor to install. Patio covers that are over 200 feet will require a permit from the city to build. The cost of permits are discussed below.
Material
Wood, aluminum and acrylic are the most common materials used in patio covers and pergolas. Wood offers a more classic look, but acrylic and aluminum will typically be lower in price.
Installation
Whether or not your patio cover or pergola is attached to your house will affect your price. Any project that is attached to your house will automatically require a permit, so that will be a cost that needs to be considered. The foundation of your deck will also factor into cost; if your deck is not built to withstand the weight of an addition, support will have to be added in.
Permits
All patio covers and pergolas that are attached to your house will require a permit, in both Washington and Oregon. These larger projects are considered a structural risk by the city, and therefore require permitting. Those projects that are not attached to the house and are smaller than 200 feet are exempt from permits.  Permits in Washington are typically $400-$800 and in Oregon $1,500-$3,000. Permit prices will depend on the size of your project. Does my project require a permit?
Additional items
Add-ons will improve the function or aesthetic of your patio cover, and you can pick and choose which are to your liking. Typical add-ons include:
Lights
Fans
Heaters
Electrical work, like outlets
TV mounts
Soffit
Skylights
Related: How long do outdoor projects last?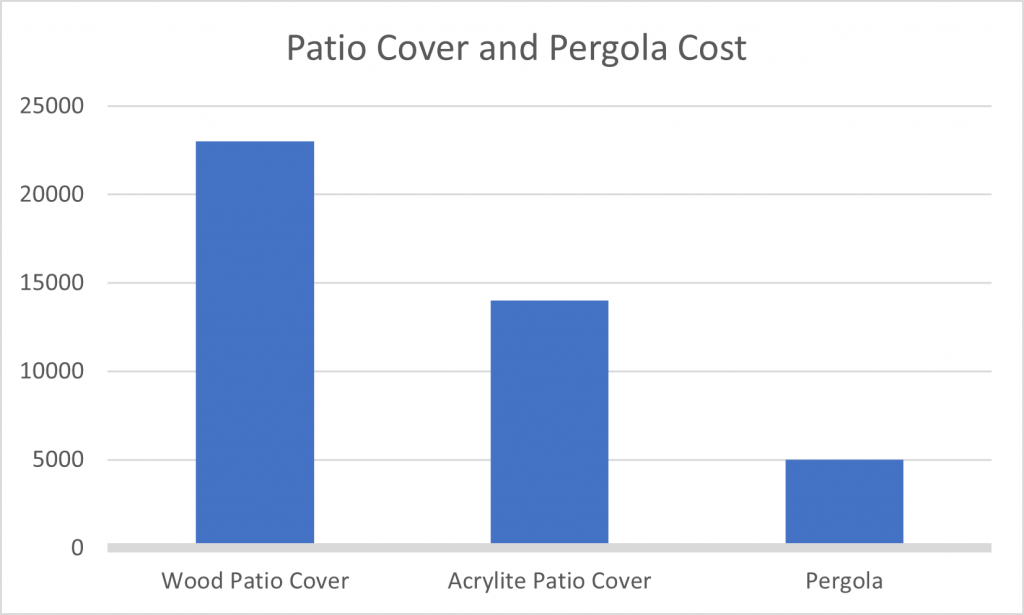 *Prices pulled from 14×14 wood patio cover, 14×14 acrylite patio cover, and 10×10 pergola from Cascade Fence and Deck.
Check out more information here:
5 Common Questions about Fence and Deck Projects
Can you Build Fences and Decks in the Winter?